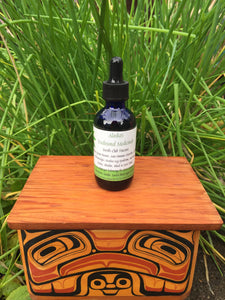 Devil's Club Tincture
Regular price $25.00 Sale
Devil's Club Tincture
Ingredients: Devil's Club, 40-50% alcohol, distilled water.
Suggested uses by our Elders: Immune System Booster, Auto Immune Disorders, Arthritis, Fibromyalgia, Restless Leg Syndrome, and more.
Kidney, Bladder, Blood & Liver Tonic.
Like ginseng, it is an adaptogen balancing the stress response and stabilizing the body. Alternative Insulin. Lowers blood sugar & cholesterol.
These products are sustainably harvested by Alaskan Native people, and made with love and respect. We wild harvest in the pristine wilderness of our ancient lands. We teach people in our communities how to harvest sustainably as well.
You have an option of 1 oz and 2 oz bottles with droppers. Just select the drop down menu of sizes to select the size you would like.
*These statements have not been evaluated by the Food an Drug Administration. These products are not intended to diagnose, treat, cure, or prevent any disease.*
FREE SHIPPING ANYWHERE IN THE UNITED STATES.